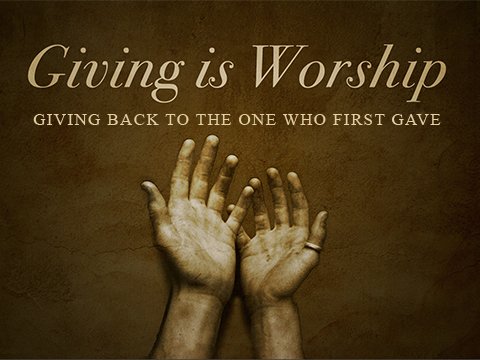 Supporting the Kingdom of God financially with Tithe and Offering
is one form of Worship. When you give a financial sacrifice into ministry you are giving God the opportunity to BLESS YOU. Malachi 3:10, St. Luke 6:38 and 2 Corinthians 9:7e reveals Gods plans for those who give to advance His Kingdom here on earth.
Malachi 3:10
"Bring ye all the tithes into the storehouse, that there may be meat in Mine house, and put Me to the proof now herewith," saith the LORD of hosts, "if I will not open to you the windows of heaven and pour you out a blessing, that there shall not be room enough to receive it".
St. Luke 6:38
"Give and it shall be given unto you: good measure, pressed down and shaken together and running over, shall men give into your bosom. For with the same measure that ye mete, therewith it shall be measured to you again".
2 Corinthians 9:7e
"As every man purposed in his heart, so let him give, not grudgingly or out of compulsion; for God loveth the cheerful giver."
Thank you for giving into the Renaissance COGIC family. We pray that your financial gift will cause God to; open windows, send over flow and commend His Love toward you. God Bless You.